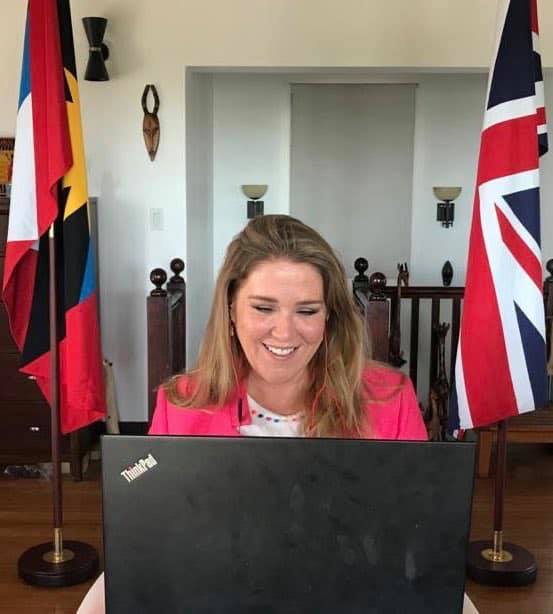 Today, the UK government was pleased to participate in a public consultation exercise for the Barbuda Energy Resilience Project which forms part of the UK Caribbean Infrastructure Fund (UKCIF) portfolio.
The event was hosted by the Barbuda Council and the Antigua Public Utilities Authority (APUA) and included representatives from the UK's Foreign, Commonwealth & Development Office (FCDO), the Caribbean Development Bank (CDB), and community residents.
The UK Government is providing EC$10.17 million in grant funding to the Government of Antigua and Barbuda for this project which aims to increase the resilience of the electricity distribution system on Barbuda, provide sustainable emergency back-up renewable energy supplies for key public buildings, and help reconnect people who have been off the grid since Hurricane Irma in 2017.

The project is delivered through the Caribbean Development Bank (CDB) and is being managed by the Government of Antigua and Barbuda through a Project Coordinator and Project Engineer from the Antigua Public Works Authority, as well as a Barbuda Council Liaison Officer assigned by the Barbuda Council.

The Government of Antigua and Barbuda, as well as the Antigua Public Works Authority are co-financiers of the Project.
During her opening remarks at the exercise, the Resident British Commissioner to Antigua and Barbuda, Lindsy Thompson, said: "the UK remains committed to supporting a more resilient Antigua and Barbuda. We are delighted there is a renewed commitment from all parties to move forward with this significant project, despite challenges imposed by the COVID-19 pandemic. We applaud the Barbuda Council and the APUA for initiating this consultative approach to strengthen community participation during the implementation of the project."

In light of COVID-19, UKCIF projects are becoming vitally important as a source for employment. In the short term, this project will create jobs in construction, operation and maintenance.
In the long run, the improved energy network is expected to accelerate the electrification of businesses and households, lower the country's dependence on fossil fuels and support economic growth.
The Barbuda Energy Resilience Project is one of two major UK grant-funded projects for Antigua and Barbuda under the UKCIF, which has a total allocation of EC$58.9 million within the programme. It is scheduled to be completed in 2021.