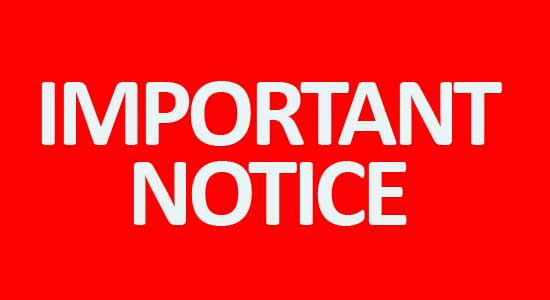 The Antigua and Barbuda Intellectual Property Office (ABIPCO) wishes to inform the general public of the increase in fees that apply to certain actions and applications made under the Companies Act 1995 pursuant to The Companies (Amendment) Regulations 2020. The full list of adjusted fees are now available on our website and will come into effect on Monday 10th August 2020.
Our office phones are currently not fully operational due to technical issues. While these issues are being worked on, please utilize our email at abipco@ab.gov.ag for correspondences or visit our office during opening hours. We will continue to do our best to process applications and requests, and facilitate all concerns as efficiently as possible. We thank the public for their continued patience during this time.
______________________________________

Our Opening Hours to the public are 8:30 am to 3:00pm, Mondays to Thursdays, and 8:00 am to 2:00 pm on Fridays: This is the allotted time for the Registry and Cashier. The Office Operational Hours are 8:00 a.m. to 4:30 p.m, Mondays to Thursdays, and 8:00 am to 3:00 pm on Fridays.   
Once the Registry and Cashier has closed, the office will facilitate only telephone and email correspondences for the remaining business hours.
The following adjusted protocols, as of Monday 20th July, remain enforceable until otherwise specified:
No more than two (2) persons will be permitted to enter the Registry. Persons will queue up outside the building, according to the clearly marked space markings, and must be wearing a mask in order to receive service. No member of the public will be allowed into any other parts of the Registry.
The Cashier has returned to the top floor.
Registry staff will not be vetting any applications. Applications and payments will be processed and placed into the relevant drop boxes.
Customers will be called when applications and documents are ready for pick-up. Pick-up will take place during the opening hours allocated to the public, at the designated collection table located outside the building.
Physical Registry searches are suspended at this time as the Intellectual Property and Commerce office refines its new guidelines for the process. Requests for Company searches and or Intellectual Property searches continue via email; enquiries are to be addressed to abipco@ab.gov.ag. Payment for searches can be made during the Cashier's opening hours.
In the case of an urgent request as it relates to Companies and Trademarks, persons can contact The Registrar and Deputy Registrar at 562-5440/ 562-5439/4623146/ 268-562-5437/268-562-8468/268-562-6719.
Editable  forms for Companies, Business and Trademarks are available for download at your convenience at ABIPCO's website www.abipco.gov.ag.
The Office prohibits physical appointments but will remain available via phone and/or email.
The High Court of Antigua and Barbuda has a Commissioner of Oaths for those that need Statutory Declarations sworn.
Attorneys are asked to conduct all business with the Registry through telephone and email correspondences to minimize traffic into the Registry.