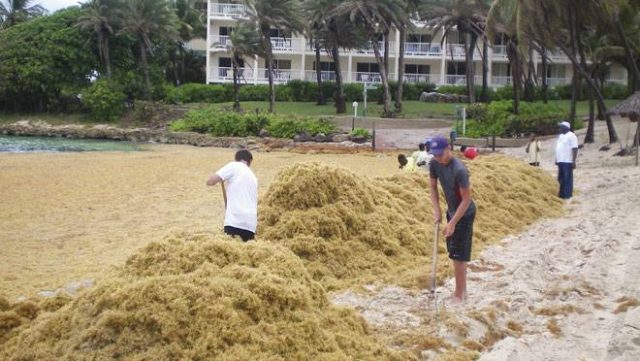 A Marine Ecologist attached to the National Parks Authority said Antigua and Barbuda will likely see an influx of Sargassum seaweed this year.
Ruleo Camacho told state media that satellite images picked up tonnes of the seaweed heading toward the Caribbean region.
"The reports are showing that this year may potentially be a bad year for Sargassum. It already starts to show the signs and there's already indications coming in from satellite images as well as fishermen are seeing patches of Sargassum out there", Camacho said.
"The December satellite images recorded about 3.4 million tonnes already in the Atlantic region and that's potentially going to grow", he revealed.
Over the years, the influx of the Sargassum seaweed on the country's shoreline has had major impacts and even led to the closure of a hotel property in 2018.
Camacho said,"2018 in terms of the amounts that they tracked across the Atlantic was the worst year. 2017 and 2015 were then kind of arguing for the number two spot."
"The way how January looks from Satellite images is very similar from what 2017 looked like", he assessed while adding, "this is not to say definitively that we're gonna have as bad a year as 2017 approaching 2018, but it's beginning to look like that may be the case and all we're trying to do is monitor it as it comes across."
Sargassum seaweed is typically found in the Sargasso Sea to the east of the Bahamas but Camacho said climate change and related factors seemed to have caused a change in currents.
"Since 2011, we started to see growth off of the coast of South America, just to the east of South America between South America and Africa and that is where it's been inundating us from over the years", he said.
"It's become an Atlantic issue, so the US has been affected, Jamaica has been affected, the other larger countries, off the coast of Africa. There's a lot of areas trying to do research, trying to figure out what it is you can utilize all of this raw material to make going forward and it's a question that we're just constantly throwing around", the Marine Ecologist said.
"As a scientist, we try and track it and understand the impacts but you know, you can't stop a hurricane and you can't stop Sargassum, they are too large of an event to stop from happening. It's just finding a way to deal with it when it gets here", he explained.
CLICK HERE TO JOIN OUR WHATSAPP GROUP