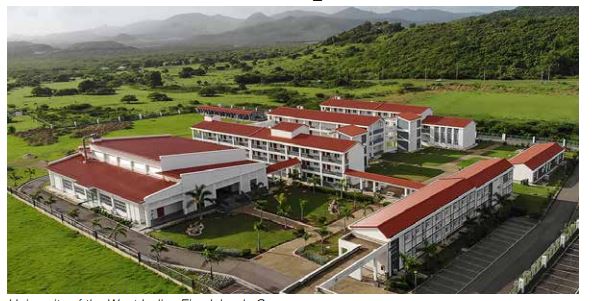 SOURCE POINTE XPRESS:

Minister of Education and Sports Daryll Matthew has been tasked with identifying land that will be suitable to facilitate the relocation of Five Islands Primary School.
This is to allow for the expansion of the University of the West Indies Five Islands Campus (FIC).

As part of its long-term goal to increase enrolment and educational opportunities, the UWI and government officials are examining an expansion plan for the campus, and the lands which the Five Islands Primary School occupy, are included.

The expansion plan, and the acquisition of land to facilitate the process, formed part of the Five Islands Campus's Council meeting discussions last Friday.
"This is an ongoing activity where the government recognises that if the potential of this campus is going to be realised, the continued acquisition of lands for the campus is critical. And it is for this reason that I will announce … that the prime minister and the Cabinet has mandated me to identify suitable lands for the relocation of the Five Islands Primary School, which sits on eight acres of land adjacent to the campus," Minister Matthew revealed.

While he did not state how soon the process will begin, and how long it will take, the education minister said the school will remain in the community and will become an ultra modern primary institution.
"With the development of the university and the need for the expansion and for additional lands, it gives us an opportunity to really build out the primary school into a state-of-the-art institution where, like the university is now doing, you can adequately plan and build for the future."

Minister Matthew offered the assurance that when the time comes, careful planning will be undertaken concerning the school's relocation and construction.

Pro-Vice Chancellor and UWI Five Islands Campus Principal, Professor Densil Williams, told the FIC Council Meeting that four parcels of land have been identified that will satisfy the fifty acres needed to expand the campus.

One parcel has already been acquired to begin the infrastructural revolution.
"This is our long-term planning framework that we have now designed. We have engaged an architectural firm that has all the expertise in building out a university infrastructure in a modern way, in a first-class way. They have engaged universities before that have started as high schools, and they have engaged them to build out world class facilities. "We have now engaged them at the Five Islands Campus, and they have now delivered the long-term planning framework for the campus," Professor Williams concluded. — POINTEXPRESS
Support Antigua Newsroom from as little as $5 – it only takes a minute. If you can, please consider supporting us with a regular amount each month. Thank you.