SUP or stand-up paddleboarding is one of the fastest-growing outdoor sports in the world. If you have visited a lake, river, or creek in the summer, then you will have seen paddleboarders. This article will outline a few tips that will help you to find the right board for you. There are a lot of things to consider when buying a paddleboard, from hull type to board length. If you do not tailor your board to you, then you may have trouble out on the water.

Hull Types
The hull is the body of your paddleboard. Your board's hull will have a huge influence on how your board handles the water. The majority of stand-up paddleboards have planing hulls or displacement hulls. These shapes have their own suited activities, though they are both suitable for beginners. It is best to choose a board according to your choice of activity. There are other types of hulls, but they are seldom seen, and usually much more expensive.
Displacement Hull
Displacement hulls have pointed noses, similar to canoes. They cut through the water which makes them faster, smoother, and more effective. Because of their ingenious design, they require less effort to move.

Planing Hull
A planing hull is a board somewhat similar to a surfboard. These boards are designed to ride on the surface of the water and are very easy to maneuver. You typically find boards with planing hulls among white water paddlers, leisure paddlers, and casual paddlers. They are typically used in touring, racing, and fitness paddling.

Inflatable or Solid?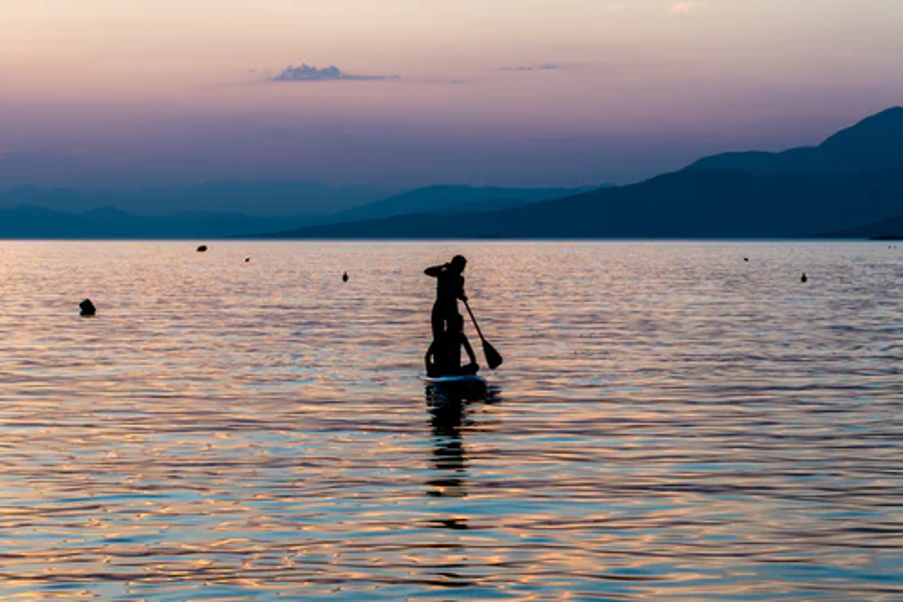 Choosing between a solid and inflatable stand-up paddleboard is important if you want to make a hobby out of paddleboarding.
Solid
You can either buy a plastic stand-up paddleboard or you can buy a fiber paddleboard. Plastic boards are typically more affordable, though they can be very heavy and hard to use. For this reason, many people choose carbon fiber boards or boards that are constructed out of lightweight wood.

Advantages of a Solid Paddle Board
Solid boards come in a variety of shapes and sizes. This gives you the opportunity to find a board that fits you perfectly, which is not always possible when you are choosing an inflatable paddle board;

Solid paddle boards have the best performance out on the water. Because of their design, they cut through the water, are smoother, and are more efficient;

Solid paddle boards are very sturdy, and much more rigid than inflatable boards. This is better for riding waves.
Inflatable
Inflatable boards also have their advantages. They usually come with pumps, which are used to inflate the board. They also come with storage bags. Inflatable boards should feel firm, stable, and rigid when inflated.
Advantages of an Inflatable Paddle Board
Inflatable boards are easily stored, unlike solid boards. If you live in a small apartment or house, have no garage, and do not have enough room in your car for a larger board, then an inflatable paddleboard may well be for you;

Inflatable boards are best used when traveling. If you are going abroad by plane, boat, or even car, you can store them quite easily. They are a favorite among hikers. You can take your board comfortably in your backpack, and when you find an idyllic lake, you can set your board up and get going.
Length
The length of your board is just as important as the material or the type. Longer boards are usually faster, and shorter boards are easier to maneuver. Here's how to make a decision on what length to buy:

Shortboards are best suited to surfers and children; they always have a planing hull and are much easier to use. Children's boards are typically around 8' long;

Medium boards are great for all-around usage, from surfing to paddling,

and even yoga

, which takes place on the open water. These boards typically have planing hulls, though you can find the odd displacement hull;

Longboards are best for racing, touring, and fast paddling. They are most popular among fitness enthusiasts and professional paddleboarders.
Width
The width of your board is very important. Here's how to choose your width:
If you are going on long paddleboarding tours or SUP yoga, then you will need a wider board. Narrower boards are better for quick days out on the water, surfing, and racing;

If you are new to paddling, you might want a wider paddleboard. Conversely, if you are practiced and knowledgeable, then you might want a narrower board;

Your board should ideally be matched to your body time. Narrower boards are suited to smaller people, and similarly, wider boards are suited to heavier people.
Selecting the right paddleboard is never going to be easy and there is a lot to take into consideration. As a guideline, follow all of these tips and factor them into your board purchase. Good luck and thanks for reading!