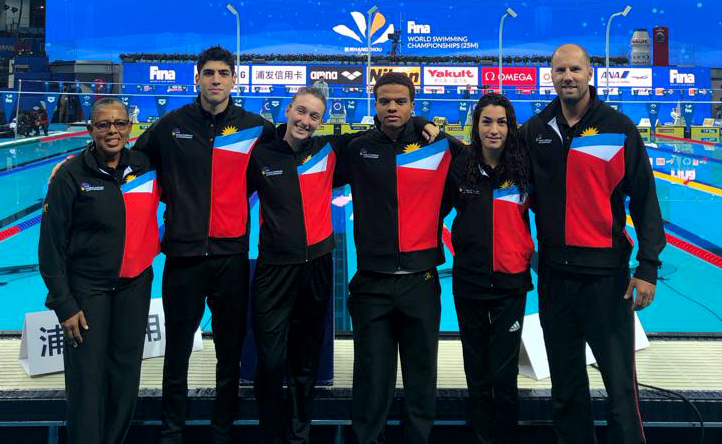 Fresh off of impressive performances at the 28th Annual OECS Swimming Championships, four of Antigua and Barbuda's top swimmers are headed to Hangzhou, China to participate in the 2018 FINA World Swimming Championships.
Team Antigua and Barbuda consists of Olivia Fuller, Bianca Mitchell, Stefano Mitchell and Noah Mascoll-Gomes. Team Manager for the trip is Antigua and Barbuda Swim Federation (ABSF) Technical Director Edith Clashing, who will accompany the athletes to China and provide support to the team and Head Coach Mark Mitchell.
Competing in the women's 13-14 age group is the recent and reigning OECS age-group champion, Olivia Fuller, who will be competing in 100 metre and 50 metre freestyle events. Olivia's times of 28.19 and 1:02:30, respectively, hope to see her into the finals where she will undoubtedly do Antigua and Barbuda proud.

Teammate Bianca Mitchell, also an OECS age-group champion, will be competing in the womens's 14-15 age-group. Bianca will compete in the 200 metre freestyle and 100 metre breaststroke events. With a personal best of 2:16:38 in the 200 metre freestyle and a competitive time of 1:21:51 in the 100 metre breaststroke, Bianca is expected to make waves in China.
Not to be outdone, the men are represented by OECS 18-and-over champion Stefano Mitchell and second-place finisher Noah Mascoll-Gomes. Stefano will compete in the 400 metre and 100 metre freestyle events, while Noah will contest the 200 metre and 50 metre freestyle events. Both men had outstanding performances at the recently held OECS Swimming Championship held in Antigua with Stefano producing times of 4:04:25 and 51:81 in his respective events. Meanwhile, Noah carries his personal bests of 51:00 in the 100 metre freestyle and 1:51:53 in the 200 metre freestyle into the competition.
Recently elected President of the ABSF, Dr. Derek Marshall wished the team well prior to their departure and encouraged them to do their best. He said, "I would like to wish the team all the best in their travels to China and in the competition there. They have all trained extremely hard and they have the support of the entire swim fraternity behind them. I know they will make the country proud."